Call Us Today!
Toll Free:

1-877-927-4621

Barrie:

705-734-2933

Belleville:

613-969-7070

Burlington:

905-637-1010

Cambridge:

226-894-5770

Kingston:

613-544-9145

London:

519-668-7510

Scarborough:

437-900-8286

Vaughan & GTA:

905-669-1898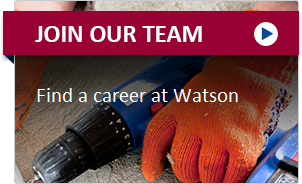 Request A Quote
Credit Application
WELCOME TO WATSON!
Watson Building Supplies is Ontario's premier distributor of construction related materials. Whether it's a small home renovation or a large-scale development project, Watson's teams work together to ensure a safe, efficient, and courteous experience during each and every delivery or interaction. We employ some of the best and brightest in the industry and we make it our goal to exceed customer expectations.
We invite you to call or visit a Watson location today.
OUR HISTORY
From our humble beginnings in 1968 at a single location in Concord, Ontario, Watson Building Supplies has grown to 8 locations with over 300 dedicated employees and a fleet of over 70 commercial delivery trucks. As the industry leader in the markets we serve, we continually strive to exceed our customers' expectations with unparalleled service, quality, safety, and the widest product offerings in our business.
In 2009 Watson joined forces with Shoemaker Drywall in western Canada and EB Beauchesne in Quebec and eastern Ontario to form WSB Titan. In doing so, we established Canada's largest privately owned and operated drywall, steel framing and insulation supplier. In 2018 WSB Titan became part of GMS Inc., founded in 1971, GMS is the largest Gypsum Specialty Dealer in North America with over 250 locations. Watson and the entire GMS family are committed to our customers and will continue to offer the industries best service, products and solutions for your business.
At Watson we value our relationships with our customers and suppliers and are proud of our
National Strength and a Local Commitment.
Copyright ©2015 Watson Building Supplies. All Rights Reserved. Website Design by
Vision Design
.